Add a Tick Symbol to Word Document 2007, 2010
This guide will demonstrate how to add a tick symbol to Microsoft Word document. The tick symbol is not a common keyboard functions and, even stranger, it is not one of the common "symbols" that can be inserted while using Microsoft Word.
The tick symbol does exist in Word but it is hidden within the Wingdins 2 font family (which is automatically installed with Office) and once the font is selected a tick is inserted by pressing Shift+P.
The following guide will explain in detail how to add a tick symbol to a word document. This tutorial is designed for office 2007 and 2010.
Inserting a Tick Symbol into Word Document
Position the flashing cursor where the tick symbol is to be added to the word document.
Click on the Insert tab on the ribbon that runs along the top of the top of the page.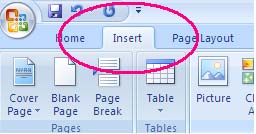 Click on the Insert Symbol icon on the insert ribbon and click on "More Symbols" at the bottom of the navigation list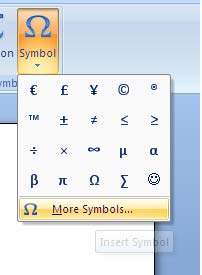 This brings up the insert symbol window where many of the common symbols are located but unfortunately the tick symbol is not one of the common symbols found in the standard font types.
Click on the "Font" drop down list and scroll all the way to the bottom of the alphabetical list to the fort ladled as Wingdins 2. (Note there are Wingdins 1, 2 and 3 but you require 2)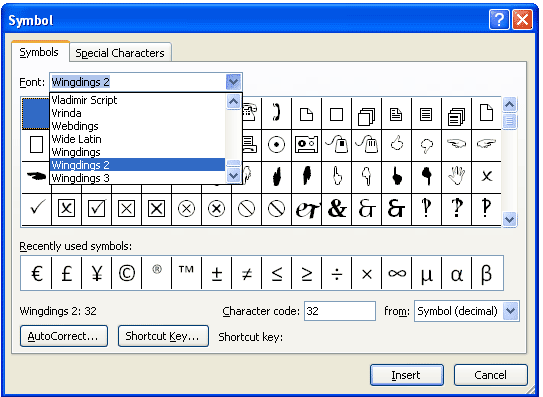 Scroll through the list of Wingdins 2 symbols until the tick symbol is located (the keyboard stroke while using Wingdings 2 font is Shift+P)
Click the insert button to insert the tick icon into the word document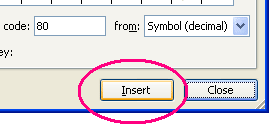 And the tick symbol is inserted into the word file. For all further additions it is easier to simply copy (ctrl+C) the tick and paste (ctrl+V) to where it is required.
Once the Wingdins 2 font is selected press Shift+P to insert the tick symbol. It is worth noting the Ctrl+P brings up the print screen and not the tick symbol.
A shorter method is to select the Wingdins 2 font from the font selection drop down box on the Home ribbon button
Other useful tick symbol include:
A tick in a box is Shift+R
A cross in a box is Shift+T
A tick in a box which is Shift+O
Related Pages and Random Possibly Useful Guides